Lā 'Ulu – Webinars
Lā 'Ulu Breadfruit Day has been postponed till 2023.
Please check back here for the new date - this is a FUN event!!!
All presentations are free Zoom webinars. Please register using the form links below each description. You will be emailed a link once you register and your email will not be used for any other purpose. Information gathered from registration forms are for grant reporting purposes.
---
a co-presentation with,
Shirley Kahaihao - Adapting everyday dishes for breadfruit
Having presented numerous breadfruit cooking demos over the past 7 years, Aunty Shirley Kauhaihao is known throughout the Pacific for her adaptations of everyday dishes to include breadfruit. Aunty Shirley will discuss her methods for adapting recipes and demonstrate her latest adaptation.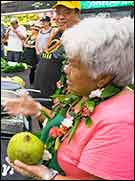 Regenerating our environment and food systems with breadfruit agroforestry,
with Craig Elevitch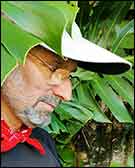 Breadfruit has been grown together with numerous other crops in abundant food-producing landscapes for millennia. In this presentation, we will introduce methods of growing breadfruit in diversified cropping systems in our modern context.