Conservation at MNBG
By Tamara Sherrill
Conservation of native plants is a multi-faceted effort and one in which the Maui Nui Botanical Gardens (MNBG) plays several important roles. First, we educate. A visit to our collection is an excellent way to learn to recognize native plants in the wild. The Gardens' native and Polynesian-introduced plant varieties are also used in workshops to contribute to the vitality of Hawaiian culture. Second, we are a 'seed bank' with many rare and endangered plants being cultivated in our garden as a safety net. This cultivation buys time for people doing restoration in the wild to mitigate threats before reintroducing species. Lastly, our nursery grows seedlings that are planted directly into protected coastal and dry forest restoration sites. We've made some significant progress in these three areas of our plant conservation program and would like to share some highlights with you.
Restoring Nesting Habitat At Waihe'e Dunes
We were approached by the Maui Coastal Land Trust (MCLT) to partner in creating a native plant seed bank to restore portions of their Waihe'e Dune as a native seabird nesting habitat. MNBG staff consulted with retired State Forester Bob Hobdy and State Seabird Recovery Specialist Fern Duval on which species to target for restoration. This consultation resulted in a focus on kāwelu (Eragrostis variabilis), a native coastal grass, as the ideal candidate for out-planting. MNBG will locate and collect kāwelu in the wild and produce 2,000 plants for MCLT to plant in an irrigated plot. MCLT will then use them to create the plants necessary to achieve their restoration.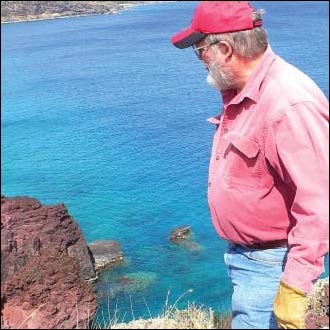 Kāwelu Collection Trip To Kanounou Point Results In New Species for Garden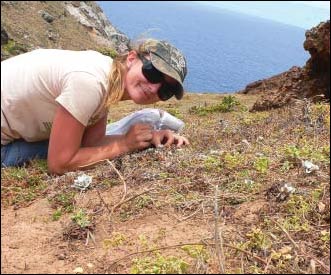 In May Stephanie Seidman, Nursery Manager, and Tamara Sherrill, Garden Manager, were accompanied by Bob Hobdy on a trip to Kanounou point, the northernmost point on West Maui, in a search for wild populations of kāwelu. Kāwelu proved to be elusive on this trip however several exciting collections were made. Th e team was successful in collecting the indigenous grass mānienie 'ula (Chrysopogon aciculatus), the endemic sedge Cyperus phleoides with no known Hawaiian name, as well as two new herbaceous plants, 'akoko (Chamaesyce celestroides var. amplectens) and 'ena'ena (Pseudognaphalium sandwicensis var. molokaiense). We also collected ripe seed capsules from hundreds of the endangered annual 'awiwi (Schenkia sebaeoides), for long-term seed banking and storage. We plan to return soon to resume our search for kāwelu.
New Hope For Maui's Wild Kauila Trees
There are fewer than 2,000 kauila (Colubrina oppositifolia) state-wide and only three individuals on Maui. Kauila is primarily known to grow on Oahu and Hawai'i Island, but one plant was discovered on Maui in Th e Nature Conservancy's (TNC) Kapunakea Preserve in 1992. It was infested with twig borers and TNC thought they had discovered this species just in time to see it disappear. With only one individual known on the island, the conservation community rejoiced when that lone plant produced a handful of seeds. Restoration eff orts however Restoring Nesting Habitat At Waihe'e Dunes proved difficult as the half dozen of those seedlings died one aft er the other. Even a seedling placed in the ground here at the Gardens failed to thrive.
As a last resort, the sole surviving seedling was dug up and placed in a well controlled potted planter at MNBG. This tree has responded very well to its new home and in a few short years has grown to well over six feet tall. This kauila has flowered on many occasions but has never set seed – until now. A flowering event in February of this year has resulted in dozens of seed clusters. Let there be no doubt that collection of seeds from MNBG's kauila truly could be the turning point for this noble tree on Maui.