MNBG Calendar
Wreath Making with Native Hawaiian Plants
Saturday, December 2nd
Morning Session: 9am - 12pm
Afternoon Session: 1:00pm - 4:00pm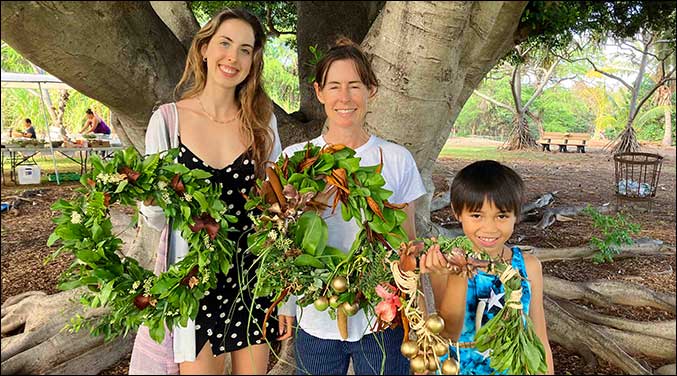 Make a holiday wreath with living, growing native plants OR cut, green, and dried native plants. Living wreaths will grow outdoors for several months or years if watered regularly, and cut foliage wreaths need no further care! Join Executive Director Tamara Sherrill and Horticulturalist Emmely Felipe in this annual Maui Nui Botanical Gardens tradition.
Members: $45.50
New Members: $70, includes Naupaka-level Garden Membership
Check Here Often for Upcoming Workshops!
Cancellations (paid workshops): Space is limited and registering without payment does not guarantee a spot. Once paid registration is full, MNBG will accept unpaid registrations in the order they are received to place you on a waitlist. Refunds for cancellations will be given only if you call 249-2798 to inform us of the cancellation at least 24 hours before the workshop begins. No-shows and cancellations less than 24 hours before a workshop will forfeit registration and membership fees.
Mahalo for your understanding.

Cancellations (free workshops): Space is limited, so if you need to cancel please call us at 249-2798 to free space for others to register.