'Ōhia lehua (Metrosideros polymorpha)
Hawaiian name: 'Ōhi'a lehua
Botanical name: Metrosideros polymorpha
Family: Myrataceae (Myrtle family)
Status: Endemic
Where found: Maui, Moloka'i, Lāna'i, Hawai'i, O'ahu & Kaua'i
Water/Light: Dry to moist, with full to partial sunlight
Elevation range: 0 to 7,200 feet
Height: Up to 100 feet tall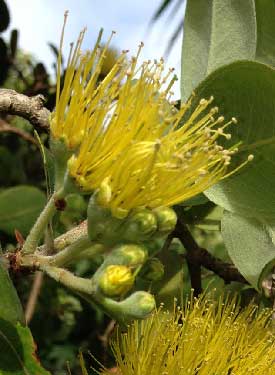 Notes: Probably no other native Hawaiian plant is found in a greater number of varieties than 'ōhi'a lehua. The beautiful flowers, of many colors, are an important food source for Hawai'i's native birds. Early Hawaiians fashioned this exceptional wood into numerous items including kapa beaters, poi boards and kāhili poles. Medicinally, early Hawaiians mixed 'ōhi'a lehua flowers with other plants to ease the pains of childbirth and to stimulate the appetite and digestion of a weakened child. 'Ōhi'a lehua flowers and the liko (new leaves) are as prized for lei making today, as much as they were in ancient times . 'Ōhi'a lehua is drought and wind tolerant.
A newly identified disease has killed large numbers of mature ʻōhiʻa trees in forests and residential areas of the Puna and Hilo Districts of Hawaiʻi Island. Learn more at https://cms.ctahr.hawaii.edu/rod/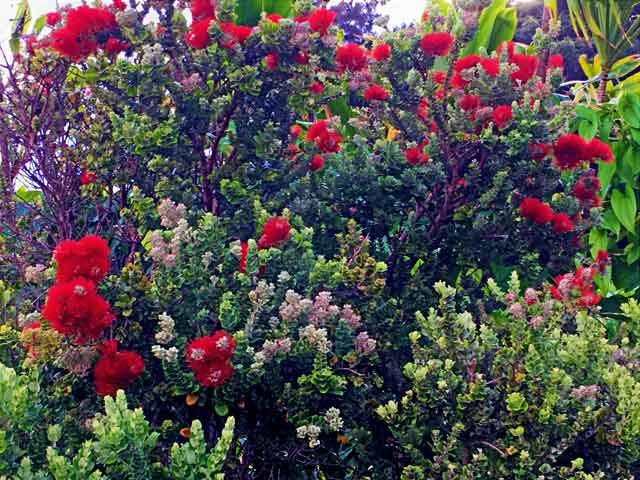 'Ōlelo Noeau [PUKUI]: I mohala no ka lehua i ke ke'eke'ehi 'ia e ka ua.
Translation: Lehua blossoms unfold because the rains tread upon them.
Meaning: Gentle words bring forth much that is desired.