Kukui (Aleurites moluccana)
Hawaiian name: Kukui
Botanical name: Aleurites moluccana
Family: Euphorbiaceae
Status: Polynesian-introduced
Where found: Maui, Moloka'i, Lāna'i, Hawai'i, O'ahu, Ni'ihau & Kaua'i
Water/Light: Dry to moist, with full sun exposure
Elevation range: 0 to 2,500 feet
Height: Up to 80 feet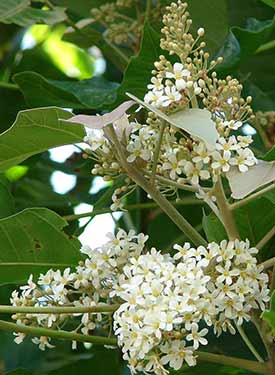 Notes: Kukui is the kinolau of the Hawaiian god, Lono, and serves as Hawai'i's official state tree. In old Hawai'i, kukui nut oil was extracted and burned as fuel for torches. A Greyish-beige kapa dye can be made using the fruit husk of kukui, and a brownish-red pigment can be made using the inner bark of the trunk. Medicinally, kukui was mixed with other plants to treat infected sores and to build ones strength after an illness. Kukui nuts continue to be collected, polished and used to make beautiful permanent lei. A Hawaiian relish, 'inamona, can also also made with kukui.
'Ōlelo Noeau [M. K. PUKUI]: Pipili no ka pīlali i ke kumu kukui.
Translation: The pīlali gum sticks to the kukui tree.
Meaning: Said of one who remains close to a loved one all the time, as a child may cling to a favorite grandparent.
*Photo Courtesy of Forest & Kim Starr