The Maui Nui Botanical Garden Staff
Tamara Sherrill:
Executive Director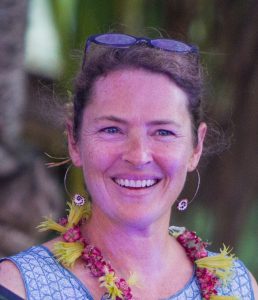 Tamara was the Maui Nui Botanical Gardens' Nursery Manager and Curator from 2002-2005 and helped collect and establish the Gardens' current collection of plants. She was active with the Native Plant Society during this time, the organization that assisted Rene Sylva in the creation of the Garden in the late 1980's. She left in 2006 to complete her Bachelor of Science in Natural Resources and Environmental Management from University of Hawai'i at Mānoa. While she attended school, she also worked as a research assistant for the University and as a biologist for the U.S. Fish and Wildlife Service. She returned to MNBG in 2009. Since 2009, she has prioritized building and verifying the Gardens' collection of pre-European contact Hawaiian varieties of kō (sugarcane), kalo (taro), mai'a (banana), 'uala (sweet potato), and 'awa (kava). Since 2015, she has been working to improve MNBG's seed storage capacity to assist natural area managers in Maui County.
Alexa Helge:
Program Manager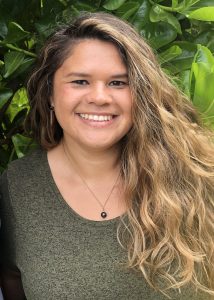 Alexa was raised on Maui and is a graduate of Lahainaluna High School. She holds a B.A. in Graphic Design from Azusa Pacific University in Azusa, California. Alexa has been managing MNBG's programs and events since September 2020.
Cathy Davenport:
Seed Storage
Technician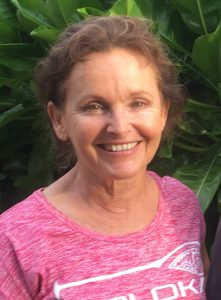 Cathy joined the MNBG team in February 2020 with the support of Hawai'i Tourism through the Aloha 'Āina Program. Cathy has a M.S. Botany from UH Mānoa; over 20 years teaching UH-MC courses such as Ethnobotany, Hawaiian Field Biology, among others; and she's a retired Hawai`i State Agricultural Inspector. She is part of an ambitious effort to step up our management and collection of wild sourced Maui County seeds, with a special emphasis on coastal species and 'ōhiʻa lehua. She is now the lead on a project with the USDA Forest Service and Hawaiʻi Agricultural Resource Center to collect and store 'ōhiʻa seeds that represent all varieties and a broad range of genetic variability on Maui, Molokaʻi, and Lānaʻi. Samples of the seeds are being sent for disease resistance testing to Hawaiʻi island, with the goal of ultimately establishing naturally resistant seed orchards on all three islands.
Nameaaea Hoshino:
Kalo Varieties Manager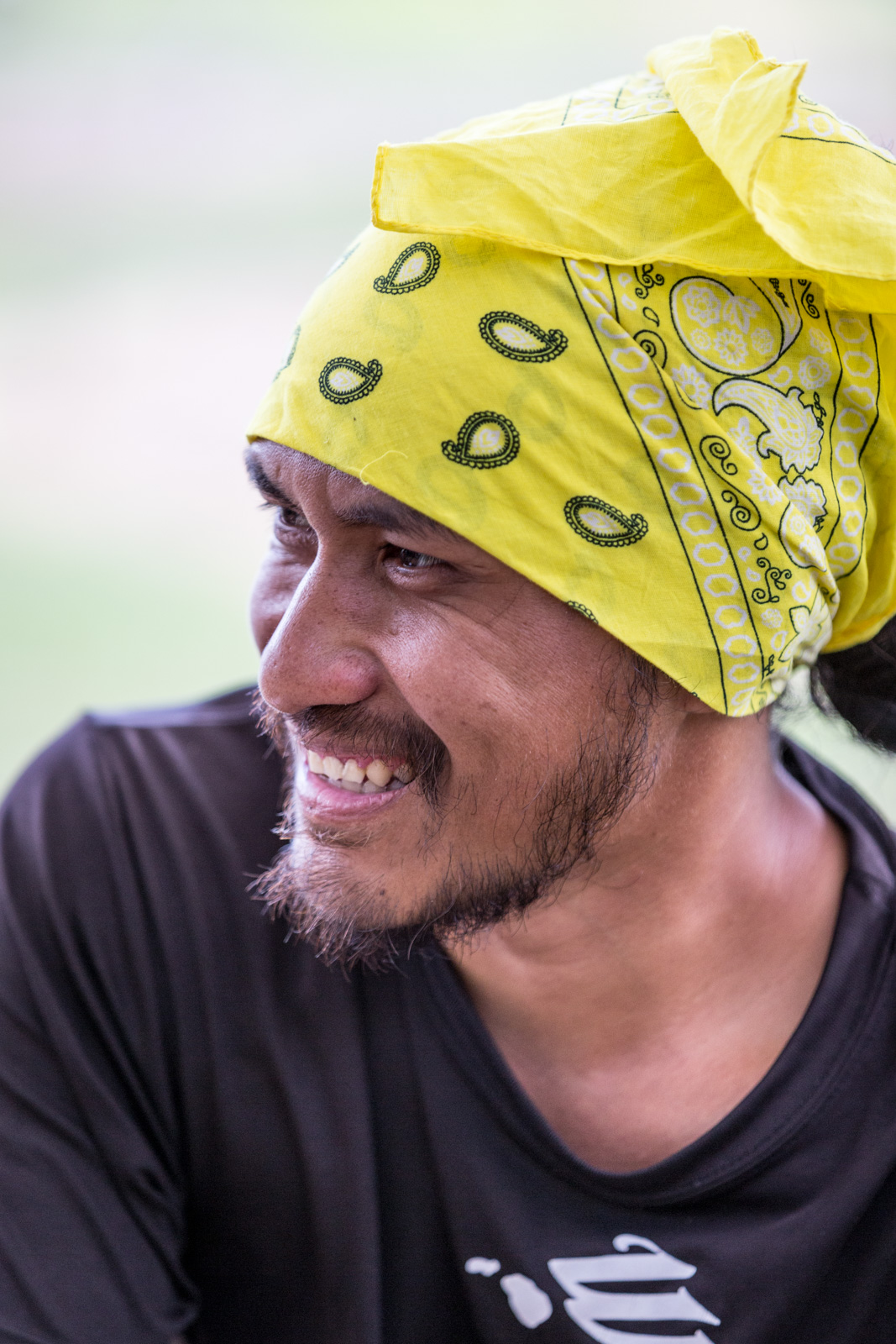 Namea has training in Hawaiian Studies with an emphasis on Hawaiian Language Immersion from the University of Hawai'i Maui College. From 2011 until the present, MNBG has been working with a grant from the Ceres Trust to create "huli bank" of verified Hawaiian kalo cultivars. More than 60 varieties of Hawaiian kalo are being grown for distribution to Maui farmers and other growers as part of a statewide effort to mālama Hāloa. Namea cares for the Hawaiian cultivars collections of kalo, maiʻa, ʻawa, kō, and ʻuala, leads workshops, and leads the garden volunteer work hour of the weekly "Weed and Pot Club".
Emmely Cabacungan:
Nursery and Landscape Design Manager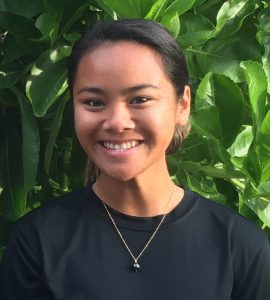 Emmely joined the MNBG team as a staff member in February 2020. She has an AAS in Agriculture and Natural Resources from UH Maui College. She has experience with conventional and organic agriculture through her work on campus as an Agriculture Assistant and an extensive knowledge of native Hawaiian plants. Emmely helped with MNBG's seed storage and plant collection in the Summer of 2019 with Nā Hua Ho'ohuli i ka Pono as a Kupu member, and among her many duties is assisting with a USDA project to collect and store genetic representation of Maui County ʻōhiʻa for natural disease resistance testing. Emmely leads the nursery volunteer work hour of the weekly "Weed and Pot Club", manages the MNBG nursery, and oversees new plantings.
Aaron Guerrero:
Garden Maintenance Manager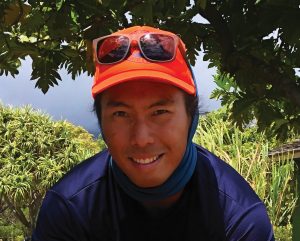 Aaron joined MNBG in 2022 after becoming a Hawaiian kalo varieties grower. He is in charge of the MNBG irrigation systems, assists with Hawaiian cultivars collections of kō and ʻawa, and keeping the public landscape safe and well maintained. His background is in strength and conditioning and knows how important outdoor physical activity is in overall health and wellness.
Karen Pollard:
Grounds and Maintenance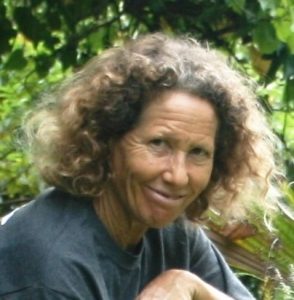 Karen has served as a student intern, a volunteer, and a staff member at MNBG. She has a Master's Degree in Environmental Restoration and is currently in Law School studying water law and alternative conflict resolution. She works part time to troubleshoot and solve plant health problems in the native plant collection at the Garden.
Michael Stevens:
Grounds and Maintenance Assistant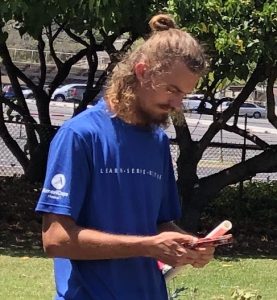 Michael is studying biology at the University of Hawai'i Maui College. He assists with seed storage and field collections, irrigation installation, nursery propagation, Hawaiian cultivars, and general garden duties.
Zion (Kekoa) Ebberson:
Kupu Member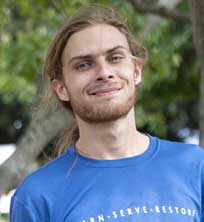 Kekoa is a Hawaiian language immersion Kaipuni program graduate from King Kekaulike High School. He served as an intern for the University of Hawaiʻi native plant garden and is now at MNBG as a Kupu Hawai'i service member full time propagating, maintaining the plant collection, and working with the seed storage program overseeing germination testing of ʻōhiʻa.