Wiliwili (Erythrina sandwicensis)
Hawaiian name: Wiliwili
Botanical name: Erythrina sandwicensis
Family: Fabaceae (Pea family)
Status: Endemic, At Risk
Where found: All Hawaiian Islands
Water/Light: Dry, with full sun exposure
Elevation range: 0 to 2,000 feet
Height: Up to 60 feet, with a spread equal to its height
Notes: Wiliwili will grow in the harshest environments where few other native plants can survive. The Hawaiian name, wiliwili, means "twist-twist" or "repeatedly twisting" referring to the seed pods that twist to expose brightly colored seeds. Wiliwili seeds and flowers continue to be used to make beautiful permanent and temporary lei. The lightweight wood was the preferred choice for making surfboards (papa he'e nalu) in old Hawai'i. Early Hawaiians believed that when wiliwili were flowering along the coast, sharks were most likely to bite. Wiliwili is drought, wind and heat tolerant.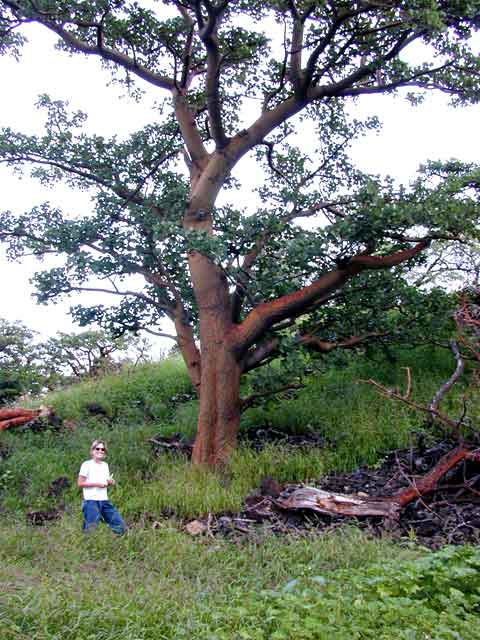 'Ōlelo Noeau [M. K. PUKUI]: Pua ka wiliwili nanahu ka mano; pua ka wahine u'i nanahu ke kanawai.
Translation: When the wiliwili blooms, the sharks bite; when a beautiful woman blossoms the law bites.
Meaning: A beautiful woman attracts young men, "sharks", who fight over her. The law steps in to keep the rivalry from getting out of hand.