Hala (Pandanus tectorius)
Hawaiian name: Hala
Botanical name: Pandanus tectorius
Family: Pandanaceae (Screwpine Family)
Status: Indigenous
Where found: All Hawaiian islands except Kaho'olawe
Water/Light: Dry, with full to part sunlight
Elevation range: 0 to 2,000 feet
Height: up to 30 feet, with a 20 foot spread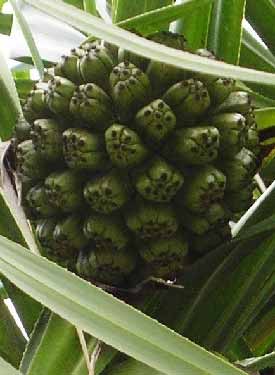 Notes: Hala leaves (lau hala) are exceptional for weaving mats, hats, roof thatching, canoe sails, baskets, sandals (kāma'a), fans and so much more. In old Hawai'i, the preparation of lau hala was done only by women. The fruit of the female hala tree can be made into striking yellow to deep-orange lei. Hawaiian custom notes that these lei are given only in times when a person advances from one significant level of life to the next; including graduations, weddings and funerals..Hala is an excellent landscape tree for poor, salty or sandy soils in hot and windy areas. It can stabilize sandy soil along coastal properties, where salt spray may kill most other plants.
'Ōlelo Noeau [M. K. PUKUI]: Puhalu ka ihu, nana i ke ka'ao
Translation: When the scent reaches the nose, one sees the overripe hala fruit [fallen to the ground]
Meaning: One only notices many good things a person does when it is too late to show appreciation.
*Photo courtesy of Forest & Kim Starr